Ruth Buzzi
Ruth Buzzi (July 24, 1936—) is an American actor and comedian of theatre, film, and television. She is especially known for her performances on the comedy-variety show Rowan & Martin's Laugh-In (1968–73): Batty woman on Laugh-In.

Buzzi was born in Westerly, Rhode Island, although she would later claim to have been born in Wequetequock, Connecticut—perhaps because it sounded funnier. She is the daughter of an Italian sculptor who specialized in making tombstones.

Ruth Buzzi was one out of only four people to appear in every episode of Laugh-In ("Rowan & Martin's Laugh-In" from 1968-1973). Her signature character was the frowzy spinster "Gladys Ormphby," clad in brown with her bun hairdo covered by a visible hairnet. The character was a well-balanced and believable mix, defending her virginal purity and honor on the one hand, and desperately seeking wild and amorous romance on the other. The "defense" came from her lethal purse, with which she would flail away at anyone who sought to take advantage of her. On Laugh-In, Gladys most often appeared as the unwilling object of the advances of Arte Johnson's "dirty old man" character "Tyrone." NBC collectively called these two characters The Nitwits when they went to animation in the mid 1970s as part of the series Baggy Pants and the Nitwits. Buzzi and Johnson both voiced their respective roles in the cartoon.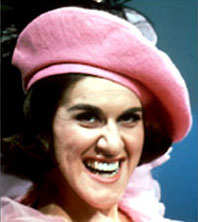 Buzzi, as "Gladys," later became a regular part of Dean Martin's "Celebrity Roasts," usually punishing Martin for his insults about her unappealing looks and romantic prospects. In one such exchange, Gladys accusingly questioned Martin about who had been chasing her around a hotel room in the wee hours; Martin's response, "The Exterminator," earned him a beating as he broke up laughing along with the audience. Gladys then declared to the audience that, when Martin and other men looked at her, only one thing came to their minds. Martin, still laughing, could barely get out the answer "Rabies!" which earned him an even fiercer beating from Gladys.

Ruth Buzzi also appeared on Sesame Street, You Can't Do That on Television (a Canadian production), and numerous other television shows. She was also a voice actor for The Smurfs. As of 2004 she was still appearing in movies.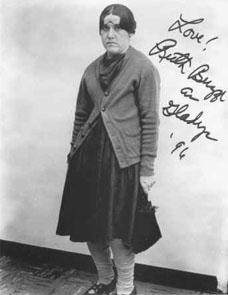 Ms. Buzzi made nearly 40 tv guest appearences, including the following:
7th Heaven in episode: One Hundred in 2001.
Sabrina, the Teenage Witch playing "Delilah" in episode: Good Will Haunting.
The Jamie Foxx Show playing "Judge Jackson" in episode: I've Fallen and I Won't Get Up.
The Love Boat in episode: Who Killed Maxwell Thorne?.
Trapper John, M.D. playing "Laura Morley" in episode: Three on a Mismatch.
Alice playing "Chloe" in episode: Henry's Bitter Half.
CHiPs playing "Herself" in episode: Roller Disco: Part 2.
The Muppet Show playing "Herself/Lt. Jamie Smithers/Gloria Goodbody".
Emergency! playing "Amy Merkl" in episode: Grateful.
Love, American Style in episode: Love and the Haunted House.
That Girl reoccurring role as "Margie "Pete" Peterson".
The Hollywood Squares as a guest panelist.
The Monkees playing "Mrs. Mildred Weatherspoon" in episode: A Coffin Too Frequent.

Other Roles Include:
Nothing But the Truth as Lois Troy in 2000.
Sesame Street as Ruthie.
My Mom's a Werewolf as Madame Gypsy.
Days of Our Lives as Leticia Bradford.
The Apple Dumpling Gang Rides Again as Old Tough Kate.
The North Avenue Irregulars as Dr. Rheems.
Freaky Friday as Opposing Coach.
The Jetsons doing additional voices.